This article is about the character. You may be looking for the song.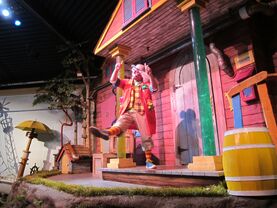 Mr. Peekaboo is a character who is good friends with Barney. He can be seen everyday at Universal Orlando Resort at the attraction A Day in the Park with Barney. Mr. Peekaboo has also made an appearance in the book Barney's Happy Valentine's Day. It is unknown who the actors who've played him are.
About
Mr. Peekaboo's full name is Patrick Aloysius Bartholomew, but he mostly goes by Peekaboo. Mr. Peekaboo's name is the same as his favorite game which is Peekaboo. He likes many things and has a house with lots of doors. As seen in A Day in the Park with Barney, he can be forgetful at times but has a bird friend named Bartholomew. Peekaboo is also married to Mrs. Peekaboo. His theme song is none other than "Peekaboo's Song".
Design
Mr. Peekaboo can always be seen with a brown cap on. He is mostly known for always wearing a green stripped shirt with a yellow stripped vest on the outside, and outside of that, he always wears his red jacket. Mr. Peekaboo is always seen with blue and white shoes with khaki pants. His facial appearance is a white mustache with big white hair and glasses.