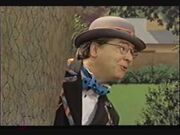 Mr. Tenagain is a character who first appeared in "Having Tens of Fun!". He's a odd, spectacled human and a good friend of Barney's.  
About Mr. Tenagain
He's called "Mr. Tenagain" because he loves to count from 1-10 and do it again.
Whenever Mr.Tenagain visits, he always brings a very special surprise present for "Baby Bop".
His favorite book is Ten, Nine Eight.
He has another favorite book called Mr. Tenagain's Yummy in the Tummy Cookbook.
Appearances
Having Tens of Fun! (1993) (first appearance)
Barney's Happy Valentine's Day (1997) (last appearance)