"Oh, Brother...She's My Sister" is the eighteenth episode from the fourth season of Barney & Friends.
Plot
As Barney and the children show how family unity can be fun, Baby Bop and BJ are having a disagreement. Their child-like spat results in each vowing not to speak to the other. Barney and the children try to soften their hard feelings by stimulating each to reflect on the positive sides of the other's personality. While Baby Bop and BJ are tussling over the book, The Baby Sister, written by Tomie dePaola, Tomie arrives and offers to read it to everyone. Tomie's book and the surprise arrival of Tomie's real baby sister, Maureen, motivate the young dinos to make up.
Stories: The Baby Sister
Song List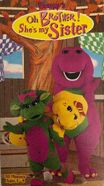 Trivia
This episode was released with "Good, Clean Fun!" in a Barney 2 video-pack as well as separately in 1998.
This is Tomie dePaola's third and final appearance on the "Barney & Friends" television series.
This episode is one of the extremely rare times that BJ calls Baby Bop by her name. After BJ reviews the book "The Stinky Skunk and the Elephant's Trunk," he states "I used to like to read this to Baby Bop."
International Edits
In some international versions, this episode was shortened.
In the Korean co-production Baniwa Chingdeul, BJ and Baby Bop give a reason for their argument. Baby Bop was dancing to "A Silly Hat" while BJ was trying to read a book. BJ turned off the music which starts the argument between the two characters.

After the song "Books are Fun", Barney reads a different story rather than the one Tomie Depaola reads. Following that, Baby Bop cries out loud and she and BJ make up on their own.