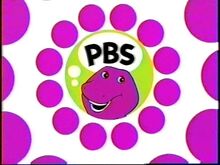 PBS Kids is a channel where Barney & Friends formerly aired.
History
Along with the block of programming on PBS, PBS Kids was a separate television network, founded as PTV in July 1994, and was targeted to children four to seven years old. The PBS Kids Channel ran for six years and was largely funded by DirecTV. The channel ceased broadcast on September 26, 2005, in favor of a new commercial joint venture, PBS Kids Sprout, which is a partnership owned by Comcast.
About half of PBS TV stations still program a children's channel themselves over their multicasting service. On PBS, two blocks of programming are currently included in PBS Kids: PBS Kids Go! and the PBS Kids Preschool Block. The former block, PBS Kids Bookworm Bunch, was launched in 2000 and canceled in 2005.
Timeline of Barney & Friends on PBS Kids
Unlike Sprout, which aired episodes mixed from both old and new seasons, PBS Kids would drop seasons from their regular lineup just a few years after they'd originally aired. This was most likely in order not to confuse viewers with the changes that occurred every few seasons.
April 6-May 15, 1992: Season 1 episodes premiere.
September 27-October 20, 1993: Season 2 episodes premiere.
February 27-October 6, 1995: Season 3 episodes premiere.
November 3-28, 1997: Season 4 episodes premiere.
November 2-27, 1998: Season 5 episodes premiere. Seasons 1-3 are phased out.
November 1, 1999-April 14, 2000: Season 6 episodes premiere.
September 2-November 22, 2002: Season 7 episodes premiere.
September 15, 2003-May 14, 2004: Season 8 episodes premiere. Seasons 4-6 are phased out.
September 6, 2004-May 13, 2005: Season 9 episodes premiere.
September 18-October 13, 2006: Season 10 episodes premiere.
September 17-October 12, 2007: Season 11 episodes premiere. Seasons 7-9 are phased out.
September 15-26, 2008: Season 12 episodes premiere.
September 7-18, 2009: Season 13 episodes premiere.
October 4-November 2, 2010: Season 14 episodes premiere.
August 31, 2016: The last day Barney & Friends aired on PBS Kids.
Trivia
When Barney & Friends Broadcasting rights expired on PBS Stations in 2016, it was removed from the PBS Kids Lineup. Since then, only the 2001 website remained from the PBS Kids website and that's the grownup website of the PBS Kids page.
Gallery
TV Bumpers & Logos