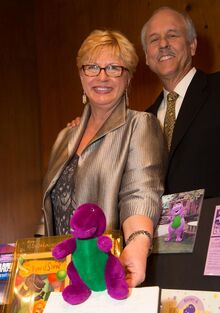 Philip Ames Parker (born April 1, 1947) is a songwriter who wrote songs for Barney & Friends, as well as for the Barney & The Backyard Gang videos.
Bio
Many of the songs from the early days of the television series were written by Parker. In addition to his songs, he also performed The Bear in "Campfire Sing-Along". He is the husband of Barney co-creator Kathy Parker which is how he came to get the job. He studied music in college, but outside college, he taught trigonometry for many years. He now teaches algebra in the Dallas Fort worth area.
According to Bob West (the voice of Barney from 1988-2001), Phil and Kathy were to create another show in 2003. However, Bob West and others who have previously worked on Barney have since lost contact with the both of them.
List of Songs Written