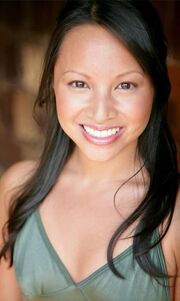 Pia Jasmine Hamilton (née Manalo; born January 8, 1982) was the actress who played Min on Barney & Friends from the first season to the third season.
History with Barney
Pia became interested with acting and dancing at a very young age. In addition, she was a fan of the Barney & the Backyard Gang videos. She auditioned for Barney & Friends in 1991 and got the role of Min. She was age 9 when she began working on the show. She left the show in 1996, after doing Barney's Fun & Games. Then two years later, Pia played Meebee(deep)'s robot in the video Barney in Outer Space. The next year, Pia joined former cast members Brian Eppes, Lauren King, Hope Cervantes, and Kurt Dykhuizen in reuniting with their purple friend in the video Sing and Dance with Barney. In 2003, she reprised her role as Min in Dance with Me.
Owner & Director of Intrigue Dance & Performing Arts Center
Pia currently owns a dance studio in Chicago and teaches there, a job her character Min showed interest in way back in the episodes "When I Grow Up..." and "Grown-Ups for a Day!"
According to her dance website, Pia is married to Dustin Hamilton.
http://www.intriguedance.com/owners/
Trivia
Pia brought some of her own Filipino heritage into the role of Min, who was originally written to be Chinese.
Pia is currently making her Broadway debut in the ensemble of The Lion King.