"Play It Safe!" is the fourteenth episode from the seventh season of Barney & Friends. 
Plot
Baby Bop wants to play nurse to BJ and put bandages all over him, but BJ is not injured. It does, however, provide the perfect opportunity for Barney to remind the group that bandages are for real boo-boos and to review safety rules for playgrounds and parks. As the song says, "Saying Be Careful Means I Love You." There are rules to remember when playing ball, swinging, sliding and climbing. While putting on a puppet show, the kids find that Mother Goose rhyme characters, such as Humpty Dumpty and Jack & Jill, weren't always careful enough. Baby Bop continues to eagerly await a real boo-boo so she can play nurse, and a rambunctious BJ isn't very careful about being careful. When BJ trips over a toy, Baby Bop finally gets to bandage a real boo-boo. Accidents may happen, but when they do, a little love from Barney is just what the doctor ordered.
Songs
Trivia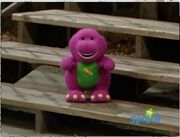 This episode was included as a bonus on the home video Ready, Set, Play!.
Filming for this episode took place in December 2001.
International Edits
Working Title: "Boo Boo Bop!"
In some international versions, this episode was shortened.