Reese Ellis Wilson (born October 1, 1995 in Rockwall, Texas) is a former American actor who portrayed Ryan on Barney & Friends from Seasons 10-12. He is the brother of actress Molly Wilson, who portrayed Amy. 
Reese Wilson studied HOD at Vanderbilt University in Nashville, Tennessee from 2014 to 2018.[1]
Reese Wilson married Brittany Helms on May 26, 2018, and they have one child named Shawn, who was born in April 2022.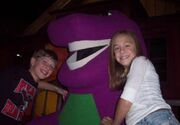 References