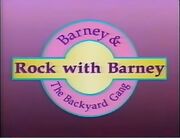 Rock with Barney is the eighth and final video in the Barney & The Backyard Gang series. It was released exclusively in Neiman Marcus stores in August 1, 1991. This video had a wide release on January 27, 1992.
Plot
Adam's mother takes Barney and the Backyard Gang to a TV studio where she works. While there, Barney and the Backyard Gang tour the studio on their own, while producing their own show. From a cereal commercial set and a puppet show and the six little ducks and teddy bears and the US flag and an island paradise and a make up place to a jungle, the show is filmed along with many props in the studio. With the power of imagination and some movie magic, anything is possible when Barney's around.
Educational Theme: The Parts of a Movie Studio/Ways to Protect our Earth
Cast
The Backyard Gang's New Friends
Songs
Gallery
Releases
Behind the Scenes
Release
Home media
This video was featured in the Blockbuster Exclusive video, Barney's Rockin' Rhyme Time (along with Barney's Rhyme Time Rhythm).
Trivia
This video marks:

The final time the Backyard Gang version of the "Barney Theme Song" is used.
The final appearances of Amy and Adam. In the television show, Barney & Friends, the characters were replaced by Min and Shawn.
The first appearance of Kathy. Kathy would later become a regular cast member for the first three seasons of Barney & Friends.
The only appearances of AJ, Joseph, Jennifer, and Adam's Mother. In the TV show, the latter kid was written out and she replaced by Tosha.
The final time Dao Knight performs Baby Bop.
The final time Derek is never seen wearing glasses.
The first time, as well as the only Backyard Gang video, when "I Love You" was not performed, even though it is used a score when Barney comes to life and when he and Baby Bop say goodbye to the kids.
The first time Barney comes to life completely on-screen.
The first time Barney wears something for when he comes to life.
The second the Barney doll does not wink at the end after Barney Goes To School. Instead, when the kids and Adam's mom leave, the camera zooms in to where the donkey prop is, and the donkey winks.

This video was originally a Neiman Marcus exclusive, as part of their Barney Boutique.

As part of this partnership, the video had several local premieres in the Dallas area. By being an In-Circle Club member, Nieman Marcus customers were able to purchase packages that included a theater viewing of the video. 

Rickey Carter is uncredited for this video.
On the producers' slate, it has the name Barney & Friends, which happens to be the name of the television show, Barney & Friends, in production in 1991.
Production for this video took place in April 1991.
References