The second season of Barney & Friends premiered on PBS from September 27 to October 20, 1993 and consisted of eighteen episodes. This season continues to display Barney coming to life through a child's imagination, whenever he is needed for something, helping his friends, through educational themes tailored for toddlers, which is the viewing audience.
This season brings back all of the main characters from the previous season and adds three new children by the name of Julie, David, and Jason, while also adding in a new dinosaur named BJ, who's the brother of Baby Bop.[1]
During this season, Tosha mentions that her parents are expecting a baby in various episodes and that she will now become a big sister. This news leads up the season's finale, "A Very Special Delivery!", where Tosha's parents bring her new siblings to meet Barney and and the others.
This is the final season in which Kathy Parker, co-creator of the series, served as an executive producer and the final season in which her husband, Philip Parker served as a songwriter. This is also the last season to be filmed at the ColorDynamics Studio in Allen, Texas as production would move to Las Colinas in Irving, Texas the next season.
This season had two albums released with a few songs taken from various episodes, under the titles of Barney's Favorites, Volume 1 and Barney's Favorites, Volume 2, released in 1993 and 1994 respectively.
Production
Cancellation
Prior to this season's debut, Barney & Friends was initially cancelled. After PBS decided to cancel the show, members of local PBS stations across the US and Canada, and parents called to object, with PBS reversing their decision.
See: Cancellation
After the decision was made to keep Barney on the air and renew it for a second season, the program became a phenomenon and became a huge source of revenue during pledge drives Based on the success of earlier pledge drives in 1992, Connecticut Public Television decided to produce a pledge drive event at their studio featuring Barney and others and even hinted about the upcoming second season.
See: Barney & Friends Family Marathon
Costumes
New Barney and Baby Bop costumes are utilized for this season, with a drastic shortening of the Baby Bop costume to better suit her age.
Set
Production for this season began in March 1993 and ended in August 1993. For the production of this season, a few set renovations occurred.
Playground: The swings and slide were replaced by a playground platform with a suspension bridge. The tire swing was removed.
Classroom: Wallpaper changed. The classroom has become more spacious than its Season 1 counterpart with its furniture and supplies closer to the walls, making it appear more organized. Tile floor replaced by carpet. Classroom door leading to the hallway replaced by a dutch door.
Cast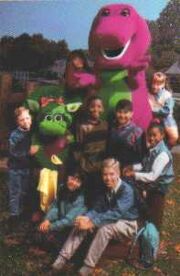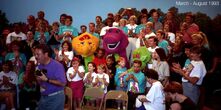 Dinosaurs
Children
Guest Appearances
Episodes
#
Episode
Written By
Directed By
New Barney Songs
Original Airdate
1

"Falling For Autumn!"

Mark S. Bernthal
Jim Rowley
"I Like Autumn"
September 27, 1993
Barney and the kids prepare for the school's fall festival.
2

"Grandparents Are Grand!"

Stephen White
Jim Rowley
"No Matter What The Name", "No Matter Where They Are"
September 28, 1993
Derek's grandfather and Kathy's grandmother visit the school. When Tina misses her abuelo, she learns that a grandparent's love always exists.
3

"May I Help You?"

Stephen White
Jim Rowley
"Turn Off the Light"
September 29, 1993
The kids show Barney their normal school routine. The kids perform "The Three Billy Goats Gruff."
4

"Red, Blue And Circles Too!"

Mark S. Bernthal
Bruce Deck
"My Yellow Blankey", "Wave the Flags"
September 30, 1993
Barney shows his friends that shapes and colors exist all around them.
5

"Honk! Honk! A Goose On The Loose!"

Stephen White
Jim Rowley
"The Library"
October 1, 1993
After Clarence the Goose runs away, Mother Goose returns to the school for help. Barney and the children recite their favorite Mother Goose rhymes to lure Clarence back to Mother Goose.
6

"Hoo's In The Forest?"

Mark S. Bernthal
Jim Rowley
"Listen"
October 4, 1993
Barney takes the kids to a forest to learn about different animal sounds.
7

"I Can Do That!"

Stephen White
Jim Rowley
"Hello, Goodbye", "The Clean Up Clock", "Happy Dancin'"
October 5, 1993
Barney, Baby Bop, and the kids discuss things that they can do. Barney brings out his special tap dancing shoes to tap dance in them.
8

"Grown-Ups For A Day!"

Mark S. Bernthal
Jim Rowley
"A Silly Hat"
October 6, 1993
By trying on different costumes and hats, the kids pretend to have different careers. Barney brings some friends to the school to show the kids their career.
9

"Picture This!"

Mark S. Bernthal
Jim Rowley
"It's Nice Just to Be Me"
October 7, 1993
Barney and the kids spend the day drawing pictures. Tomie dePaola drops by to show the kids how he draws pictures. Barney and the kids collaborate on their own original book.
10

"Look At Me, I'm 3!"

Stephen White
Bruce Deck
"Look at Me, I'm Three"
October 8, 1993
It's Baby Bop's third birthday; so, Barney and the kids throw her a surprise birthday party. Baby Bop's brother BJ drops by to join in the fun.
11

"The Exercise Circus!"

Stephen White
Jim Rowley
October 11, 1993
Barney and the kids incorporate exercises into circus acts to show Tina that exercising can be fun. Joe Scruggs visits the school to share a silly song.
12

"My Favorite Things"

Stephen White
Jim Rowley
October 12, 1993
Barney and his friends share their favorite things. Joe Ferguson visits to tell a story about shapes.
13

"The Dentist Makes Me Smile"

Mark S. Bernthal
Jim Rowley
"Silly Things"
October 13, 1993
Shawn is worried about his loose baby tooth. Barney assures him that losing teeth is natural for his age. Tosha and Kathy show Barney and the other kids the procedure of a dental check-up.
14

"Stop, Look And Be Safe!"

Stephen White
Bruce Deck
"Indoor-Outdoor Voices"
October 14, 1993
Michael shows his new crossing guard uniform to his friends, leading to a discussion all about safety.
15

"An Adventure In Make Believe"

Stephen White
Bruce Deck
"Just Imagine", "Jungle Adventure"
October 15, 1993
To help BJ learn how to use his imagination, Barney sets up a make-believe adventure to find a missing princess.
16

"The Alphabet Zoo"

Mark S. Bernthal
Jim Rowley
"The Tiger Song"
October 18, 1993
Barney and the kids decide to create their own zoo, filled with animals that start with each letter of the alphabet. Aunt Molly drops by to share a story.
17

"Having Tens Of Fun!"

Mark S. Bernthal
Jim Rowley
"A Big Parade Of Numbers"
October 19, 1993
Barney's friend, Mr. Tenagain, visits the school to show the kids fun counting activities. Meanwhile, Mr. Tenagain has a very special surprise for Baby Bop!
18

"A Very Special Delivery!"

Stephen White
Jim Rowley
October 20, 1993
Tosha's special surprise is on the way. While they wait, Barney and the children discover different ways that make each of them special. Barney's friend Ella Jenkins shares some special songs with the kids.
Release
Home media
A few episodes from this season were notable episodes re-titled and released on home video. Those include Let's Pretend with Barney, Barney's Alphabet Zoo, Barney's Exercise Circus / Barney's Parade of Numbers, and Barney's Families are Special.
Trivia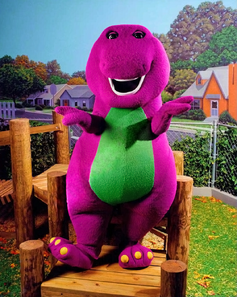 This season marked:

The first season since A Day At The Beach to have the yellow toes on the Barney doll. The Barney doll from this season also appeared in season three.
The only season to be closed-captioned by the National Captioning Institute. The episodes released on Home Video, as well as a few episodes aired on television, were closed-captioned by the Caption Center WGBH Educational Foundation, except for Barney's Families are Special.
The first season to have the 1993 PBS Kids logo with the P-Pals. An e/i balloon was added later in 1996.
The first season that Kimberly-Clark and its Huggies family of baby products signed on as a sponsor, later Chuck E. Cheese's & Chef Jr. Pasta Was Added To Sponsor.

The Barney Bag has been redesigned completely.
This season was originally intended to have twenty episodes.[2]
The pictures in the end credits for this season are the same in the credits season three.
Songs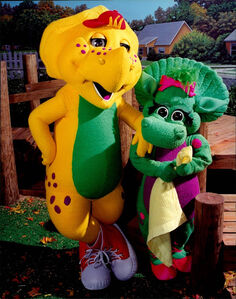 Cast/Characters
This season marked:
Shawn starts wearing glasses in this season.
References