The third season of Barney & Friends premiered on PBS from February 27[1] to October 6, 1995 and consisted of twenty episodes. This season continues to display Barney coming to life through a child's imagination, whenever he is needed for something, helping his friends, through educational themes tailored for toddlers, which is the viewing audience.
Now, the series becomes filmed at Las Colinas in Irving, Texas. Due to series moving, the entire set was reconstructed as an expanded classroom and playground set and also introduces the treehouse. Also added to the series is The Adventure Screen, a video monitor that Barney and his friends use for taped field trips.[2]
This became the first season to no longer feature any of the Backyard Gang kids as a part of the main cast, however, Derek and Tina do make a guest appearance. This season adds the two new main characters, Juan and Kenneth, adds the prominent character, Stella the Storyteller[2], and also served as the debut for the longtime character of Mr. Boyd. The character, Carlos, who first appeared in Barney Live! In New York City, also becomes a main character in this season.
From September 11 to October 6, 1995, PBS stations across the United States aired Barney's Back-to-School Celebration which saw the first twenty episodes air consecutively in a themed week. The week of September 11 was devoted to the theme of "My Home and My Neighborhood". The week of September 18 was devoted to the theme of "My Family and Me", followed by "Animal Friends" on September 25-29. The celebration lead to the final five episodes, that weren't broadcasted prior, in the theme of "On My Way", which focused on transportation.[2][3]
Home videos such as Barney Safety, Barney Songs, and Barney's Musical Scrapbook, solely featured clips from this season for content.
Production
Production for this season began in November 1994 and ended in March 1995. Filming for this season was originally scheduled for May 1994. But due to the lawsuit over the song "I Love You", the production was pushed back to November 1994.
This is the last season to feature Bob Singleton as the musical director. He would later serve as an alternate musical director for some of the home videos from 1997-2000.
This is also the first season in which viewers saw a shorter BJ. This height change was due to better represent his age. BJ is now played by Jeff Brooks for the first time in a Barney & Friends season.
Royalties
Continuing to be aired on PBS, the network didn't go after money in its deals for the first two seasons of Barney & Friends. For this season, PBS negotiated royalties covering a wider range of products, including all videocassettes, according to Larry Rifkin, plus the new guarantee that public television would recoup its spending.[4]
Cast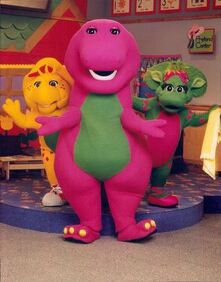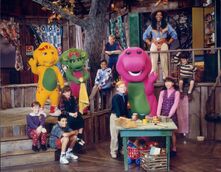 Dinosaurs
Children
Adults
Guest Appearances
Episodes
#
Episode
Written By
Directed By
New Barney Songs
Original Airdate
1

"Shawn & The Beanstalk"

Mark S. Bernthal
Stephen White ("Jack and the Beanstalk" Story Adaption)
Bruce Deck
"The Raindrop Song"
February 27, 1995
Shawn's disappointment with a science project leads Barney and the children to explore the joys of nature, gardening, and caring for plants.
2

"If The Shoe Fits..."

Mitch Lobrovich
Bruce Deck
"I'm Glad I Have a Brother", "We've Got Shoes"
February 28, 1995
Baby Bop and BJ's desire for a new pair of shoes prompts Barney and the children to create a special gift that will make their old shoes seem new.
3

"Room For Everyone"

Mark Bernthal
Bruce Deck
March 1, 1995
Barney helps the children create their favorite rooms in a house to cheer up Carlos, who must temporarily share his bedroom with his younger brother, Juan.
4

"I Can Be A Firefighter!"

Mitch Lobrovich
Bruce Deck
"Here Comes the Firetruck", "When I'm a Firefighter"
March 2, 1995
Barney and the children have fun learning about fire safety from Firefighter Frank and his dog Chief.
5

"Shopping For A Surprise!"

Rebecca Self Snider
Bruce Deck
"Gonna Have a Party", "The Mail Song"
March 3, 1995
After reading a story about a feast, the children decide to go shopping for all the items they will need to have a party for a surprise guest.
6

"Any Way You Slice It"

Mark S. Bernthal
Bruce Deck
"Pumpernickel", "Make the Bread"
June 7, 1995
With a little help from Stella the Storyteller, the children decide to feature breads from around the world at their school's annual International Festival.
7

"Twice Is Nice!"

Rebecca Self Snider
Bruce Deck
"The Baby Bop Hop", "Friends of Mine"
June 8, 1995
A scavenger hunt and a pair of fun-loving twins are the highlight of the day when Barney and his friends get together to play.
8

"On The Move"

Mark S. Bernthal
Bruce Deck
"Our New School"
June 9, 1995
Barney, BJ, and the children welcome a new boy to their school, and they all work together to create a special present for some old friends who have recently moved to a different school.
9

"A Welcome Home"

Mitch Lobrovich
Bruce Deck
"Someone to Love You Forever"
June 12, 1995
Barney and the children try to find someone to adopt a puppy needing a good home.
10

"Classical Cleanup"

Mark S. Bernthal
Bruce Deck
June 13, 1995
When Baby Bop accidentally sets off a chain reaction resulting in a messy classroom, the children work cooperatively to help clean up, demonstrating how they are family helpers at home.
11

"Our Furry Feathered Fishy Friends"

Mark S. Bernthal
Bruce Deck
"Let's Do the Tricks My Doggie Does", "Let's Take Care of Our Pets"
July 24, 1995
The children have brought their pets to school for "show n' tell." They have fun demonstrating how they care for their pets.
12

"Gone Fishing!"

Rebecca Self Snider
Bruce Deck
"Big and Little"
July 25, 1995
Barney helps his friends learn the importance of taking turns while they all participate in a variety of under-the-sea activities.
13

"At Home With Animals"

Mitch Lobrovich
Bruce Deck
"Hooray for Moms and Dads"
July 26, 1995
The threat of rain drives the children and Barney into the treehouse where they notice a bird's nest. This prompts curiosity about different animal homes.
14

"It's Raining, It's Pouring..."

Mark S. Bernthal
Bruce Deck
"What Can We Play on a Rainy Day?"
July 27, 1995
When Barney and his friends are driven indoors by a rainstorm, a discussion about sheep is sparked while the children are sharing their favorite rainy-day activities. Special guest Tomie dePaola visits.
15

"Camera Safari"

Mitch Lobrovich
Bruce Deck
"Jungle Adventure (Safari Version)", "The Elephant Song","Here, Kitty Kitty"
July 28, 1995
Baby Bop's confusion between a kitty cat and a tiger during a safari adventure presents an opportunity for Barney and his friends to discover the world of cats.
16

"Who's Who On The Choo Choo?"

Mark S. Bernthal
Bruce Deck
"Have a Snack!"
October 2, 1995
Barney and his friends miss seeing the trains that keep mysteriously passing through the playground. When they finally got to see the trains, Stella the Storyteller arrives to tell a fun, familiar train story.
17

"Are We There Yet?"

Mark S. Bernthal
Bruce Deck
"Wash the Car"
October 3, 1995
The children surprise Barney by making a Barney-sized car for him from odds and ends. He takes them for a fun ride after running some interesting errands.
18

"Ship, Ahoy!"

Mitch Lobrovich
Bruce Deck
"Let's Go On An Adventure"
October 4, 1995
Barney and his friends, with Stella the Storyteller's help, have a boating adventure that includes a faraway island and treasure.
19

"Hats Off To BJ!"

Mitch Lobrovich
Bruce Deck
"BJ's Dance Thang", "That's Hats"
October 5, 1995
While the children are having fun creating a block town and playing with trucks, BJ's news of his lost hat sends Barney and the children on a search for the perfect hat for BJ.
20

"Up We Go!"

Mark S. Bernthal
Bruce Deck
"My Kite", "Hey, Look at Me! I Can Fly!"
October 6, 1995
Barney and his friends are intrigued by several mysterious rhymes which appear attached to some flying object. BJ is in for a high-flying surprise himself, thanks to Barney!
Release
Broadcast
The first fifteen episodes were originally broadcasted with longer credits, similar to the first two seasons. Starting in September 1995, all episodes were re-edited to contain shorter credits. However, the UK airings of the last five episodes of this season as well as the US and Spanish releases of Riding In Barney's Car and the screener and Spanish versions of Barney's All Aboard For Sharing used the longer credits.
Home media
A few episodes from this season were notable episodes re-titled and released on home video. Those include Making New Friends, Riding in Barney's Car, and Barney's All Aboard For Sharing.
Trivia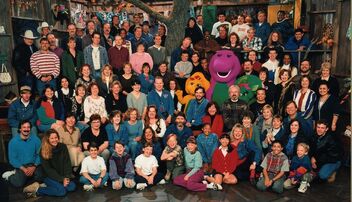 This season marked:

The first season to be closed-captioned by the Caption Center WGBH Educational Foundation.
The first season that uses clips of a kid or different kids saying, "Hey everybody, it's time for Barney Says!".
The only season where all of the episodes were directed by the same director (Bruce Deck).

In a rare move, this is the first season to have an episode release on home video before its television premiere which was "Are We There Yet?" in which would be named Riding In Barney's Car.
Initially, in the first draft for Barney's Great Adventure, All of the kids cast for this season, including Derek, appeared in the opening scene as cameos. Also, according to the original script, Marcella is Tosha's cousin. This scene probably got cut because, by the time they started filming, the cast was too old.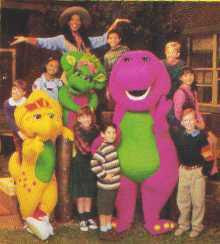 Characters
Modifications
A new walking animation is used for the Barney & Friends logo.
The Barney Bag has been modified with a brighter look and this design of the bag would be used until season six.
Although the tire swing from the playground was removed after season one, the promo shot of the Barney doll sitting in a tire swing that is shown at the end of theme song has been reshot.
References