Season 3 of Barney & Friends aired from February 27 to October 6, 1995.
Cast
Dinosaurs
Children
Adult
Guest Appearances
Episodes
#
Episode
Written By
Directed By
New Barney Songs
Original Airdate
1

"Shawn & The Beanstalk"

Mark S. Bernthal
Stephen White ("Jack and the Beanstalk" Story Adaption)
Bruce Deck
The Raindrop Song
February 27, 1995
After being worried about his science project, Shawn is informed by Barney that plants will grow with time, sunshine, water, and love. The kids also perform a version of Jack and the Beanstalk.
2

"If The Shoe Fits..."

Mitch Lobrovich
Bruce Deck
I'm Glad I Have a Brother
We've Got Shoes
February 28, 1995
Barney helps the kids get ready for a performance of the "The Elves and the Shoemaker". Meanwhile, Baby Bop and BJ look for new shoes that will fit them.
3

"Room For Everyone"

Mark Bernthal
Bruce Deck
None
March 1, 1995
The kids show Barney their favorite rooms in their houses. When Carlos feels upset that he has to share a room with his brother, Stella shares a story about the importance of siblings sticking together.
4

"I Can Be A Firefighter!"

Mitch Lobrovich
Bruce Deck
Here Comes the Firetruck
When I'm a Firefighter
March 2, 1995
BJ decides that he wants to become a firefighter and announces it to his friends. Julie has decided that she would like to be a firefighter as well. Firefighter Frank visits the school and teaches Barney, BJ and the kids all about fire safety.
5

"Shopping For A Surprise!"

Rebecca Self Snider
Bruce Deck
Gonna Have a Party
The Mail Song
March 3, 1995
In order to prepare a special surprise party for Barney, the kids set up a pretend grocery store for Barney and Baby Bop to shop for party food and decor.
6

"Any Way You Slice It"

Mark S. Bernthal
Bruce Deck
Pumpernickel
Make the Bread
June 7, 1995
With some help from Barney and Stella the Storyteller, the kids put together their bread booth for the school's international festival.
7

"Twice Is Nice!"

Rebecca Self Snider
Bruce Deck
The Baby Bop Hop
Friends of Mine
June 8, 1995
While on a scavenger hunt, the kids meet twin sisters Ashley and Alissa. They soon discover that twins may look the same, but they are both unique and special.
8

"On The Move"

Mark S. Bernthal
Bruce Deck
Our New School
June 9, 1995
Derek and Tina return to the school for a visit, so Barney and the kids prepare a surprise present. Meanwhile, BJ helps new friend Kenneth fit into his new school.
9

"A Welcome Home"

Mitch Lobrovich
Bruce Deck
Someone to Love You Forever
June 12, 1995
Min brings one of her puppies to school - hoping someone would adopt it. Being adopted herself, Julie quickly bonds with puppy.
10

"Classical Cleanup"

Mark S. Bernthal
Bruce Deck
None
June 13, 1995
After Baby Bop makes a mess in the classroom, Barney and the kids help clean it so Mr. Boyd can attend his concert.
11

"Our Furry Feathered Fishy Friends"

Mark S. Bernthal
Bruce Deck
Let's Do the Tricks My Doggie Does
Let's Take Care of Our Pets
July 24, 1995
The kids show Barney the pets they had brought to school for show and tell. When Kenneth's bunny goes missing, Barney and his friends help him get it back.
12

"Gone Fishing!"

Rebecca Self Snider
Bruce Deck
Big and Little
July 25, 1995
To help teach Juan how to take turns, Barney allows him to pick a fun activity that all of his friends can have fun doing. Juan decides that he wants to pretend that all of his friends are at an ocean park.
13

"At Home With Animals"

Mitch Lobrovich
Bruce Deck
Hooray for Moms and Dads
July 26, 1995
Kenneth is observing a bird's egg, awaiting for it to hatch. Meanwhile, Barney and the kids discover all the different types of animal homes.
14

"It's Raining, It's Pouring..."

Mark S. Bernthal
Bruce Deck
What Can We Play on a Rainy Day?
July 27, 1995
With a parachute and some imagination, Barney, BJ, and the kids come up with fun activities to do on a rainy day.
15

"Camera Safari"

Mitch Lobrovich
Bruce Deck
Jungle Adventure (Safari Version)
The Elephant Song
Here, Kitty Kitty
July 28, 1995
Barney and his friends go on a pretend safari to learn all about wild animals. Each of the kids pretend to be an animal, while the others guess which animal they are pretending to be.
16

"Who's Who On The Choo Choo?"

Mark S. Bernthal
Bruce Deck
Have a Snack!
October 2, 1995
Awaiting for a special surprise, Barney teaches the kids all about trains. Meanwhile, Baby Bop and BJ learn an important lesson about sharing.
17

"Are We There Yet?"

Mark S. Bernthal
Bruce Deck
Wash the Car
October 3, 1995
The kids build Barney his very own car. After running some errands, Barney takes his friends on a fun car ride.
18

"Ship, Ahoy!"

Mitch Lobrovich
Bruce Deck
Let's Go On An Adventure
October 4, 1995
Stella the Storyteller tells Barney, Baby Bop, and the kids a story about how a bunch of adventurers sailed to Coco Island and met a friendly pirate.
19

"Hats Off To BJ!"

Mitch Lobrovich
Bruce Deck
BJ's Dance Thang
That's Hats
October 5, 1995
Barney and the kids help BJ search for a new hat, after losing his old one.
20

"Up We Go!"

Mark S. Bernthal
Bruce Deck
My Kite
Hey, Look at Me! I Can Fly!
October 6, 1995
BJ sends special riddles to Barney and the kids featuring fun "flying" activities they can all do. To return the favor, Barney takes BJ on a special airplane ride.
Characters
Characters Introduced
Trivia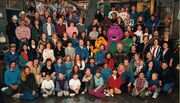 This season marked:
The first season to feature Jeff Brooks as BJ's costume performer

The last season to feature Bob Singleton as the musical director. He would later serve as an alternate musical director for some of the home videos from 1997-2000. The final time he served as a musical director was on the screener copy of Be My Valentine, Love Barney.
The first season to use two Barney costumes.
The first appearances of The Treehouse and The Adventure Screen.
The final appearances of Julie, Derek, and Tina.
The first season to be closed-captioned by the Caption Center WGBH Educational Foundation.
The first season that uses clips of a kid or different kids saying "Hey everybody, it's time for Barney Says!".
The only season where all of the episodes were directed by the same director (Bruce Deck).

The first fifteen episodes were originally broadcasted with longer credits, similar to the first two seasons. Starting in September 1995, all episodes were re-edited to contain shorter credits. However, the UK airings of the last five episodes of this season as well as the US and Spanish releases of Riding In Barney's Car and the Spanish version of Barney's All Aboard For Sharing used the longer credits.
In a rare move, this is the first season to have an episode release on video before its TV premiere which was Are We There Yet? in which would be named Riding In Barney's Car.
The last five episodes of the season were broadcasted under the "Back to School with Barney" programming block. 
The Baby Bop and BJ costumes become shorter to represent their respective ages.
For this season, with the exception of Ship, Ahoy!, Stella the Storyteller uses props to act out the stories. 
Kathy is no longer seen with her teddy bear.
The Barney Bag has been modified with a brighter look and this design of the bag would used until Season 6.
Due to moving to a new studio, the entire set was reconstructed:

The playground is larger with a reconstructed playset. Instead of a bridge, the playset has a lookout tower. 
A treehouse with a porch was added. 

A new walking animation is used for the Barney & Friends logo.
Filming for this season was originally scheduled for May 1994. But due to the lawsuit over the "I Love You" song, the production was pushed back to November 1994. 
This season was filmed at The Studios at Las Colinas in Irvin, Texas, and would continue to be produced there through Season 6. 
The production for this season began on November 1994 and ended on March 1995.
Initially, in the first draft for Barney's Great Adventure, All of the kids cast for this season, including Derek, appeared in the opening scene as cameos. Also, according to the original script, Marcella is Tosha's cousin. This scene probably got cut because, by the time they started filming, the cast was too old.