The fourth season of Barney & Friends premiered on PBS from November 3 to November 28, 1997 and consisted of twenty episodes. This season continues to display Barney coming to life through a child's imagination, whenever he is needed for something, helping his friends, through educational themes tailored for toddlers, which is the viewing audience.
Continuing to be filmed at Las Colinas in Irving, Texas, and still taking place at a school, playground, and treehouse, the entire set becomes updated. This season adds the two puppet characters: Scooter McNutty, a squirrel who lacks foresight, and Miss Etta Kette, a bird with great manners.[1]
The main cast of kids from the previous three seasons have all been replaced by a new cast of children,[2] with some extras from the previous season and videos now becoming regular cast members. Those include the characters are: Ashley, Alissa, Stephen, Kristen, Kim, and Maria. Also joining the cast from the two previous videos are: Hannah, Chip, Keesha, and Robert. New kid characters were also added in this season, including: Danny, Curtis, and Jeff. This became the first season to not feature any children from the series predecessor, Barney & The Backyard Gang, as well as the first three seasons.
This is the final season in which Sheryl Leach, the creator of the series and franchise, served as an executive producer.
Production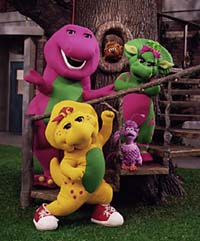 Initially scheduled to debut in September 1997,[3] this season was announced in September 1996, and production for this season ran from April to August 1997.
Set
The school, playground, and treehouse all get updated:
The school doors change from orange to green; the windows have a green trim rather than white; and it now has a wheelchair ramp.
Unlike previous seasons, the classroom is no longer arranged by "centers".
The playground gets more plants, and a red bench surrounds a tree. The fences have also changed to green rail fences.
The treehouse also gets renovated. In the back of the tree house, there is a huge round table and a ship wheel. In the front of the tree house, there are benches that look out to the outside deck of the tree house.

In addition, a lookout is added to the treehouse. There are stairs that lead up to the look out, and a slide that connects from the lookout to the back of the tree house.

The newly updated school and tree house sets from this season first appeared in the new material of "Barney's Musical Scrapbook", except that there is no bench around the tree. Also, the new school can't be seen in that video; as it wasn't completed yet when that video was being produced.
Cast
Both David Joyner and Bob West left during production of this season to film "Barney's Great Adventure". Duncan Brannan replaced Bob West as the voice but soon later returned to dub over Duncan Brannan's lines.[4] Josh Martin and Maurice Scott replaced David Joyner to perform the Barney costume, while David Joyner would resume performing the character in "Barney in Outer Space".
Jessica Hinojosa (Maria) left the cast during the filming of this season with her final appearance in "Waiting for Mr. MacRooney".
Crew
This season ushered in a new production designer (Bob Lavallee), a new musical director (Joseph Phillips) and a wider array of writers compared to the previous seasons.
Cast
Dinosaurs
Children
Adults
Animals
Guest Appearances
Episodes
#
Episode
Written By
Directed By
New Barney Songs
Original Airdate
1

"First Day of School"

Stephen White
Steven Feldman
"The Classroom Song", "Colors All Around"
November 3, 1997
Barney and the kids show Stephen around the classroom before the first day of school. Meanwhile, Scooter McNutty and Miss Etta Kette help Baby Bop form her own school.
2

"Is Everybody Happy?"

Perri Verdino-Gates
Fred Holmes
"I Can See It on Your Face"
November 4, 1997
Barney helps the kids prepare for the school carnival. But when Baby Bop breaks Chip's tower for the carnival, they both learn the importance of friends dealing with negative emotions.
3

"Pennies, Nickels, Dimes"

Mitch Lobrovich
Steven Feldman
"Pennies in My Pocket"
November 5, 1997
The kids save up money to buy another goldfish. Stephen hunts for his missing quarter.
4

"We've Got Rhythm"

Stephen White
Fred Holmes
"Everybody Should Listen"
November 6, 1997
BJ's loud drum leads to a discussion on rhythm. Barney's friend Marvin Johnson and his daughter Mica perform a Native American dance to show how rhythm is used in dance.
5

"Tick Tock Clocks!"

Mark S. Bernthal
Steven Feldman
"Ticky Ticky Tock", "By Myself", "Try and Try Again"
November 7, 1997
After Baby Bop is late to meet up with BJ in the treehouse, Barney and the kids help Baby Bop learn to tell time. Dr. TickTock stops by the school to make a special watch for Baby Bop.
6

"Waiting For Mr. MacRooney"

Donna Cooner
Fred Holmes
"Clean Up! Do Our Share!", "You Can Count on Me"
November 10, 1997
Robert is waiting for a special delivery in the mail. To help pass the time, Barney takes the kids to his bakery to decorate some cookies.
7

"Let's Build Together"

Perri Verdino-Gates
Steven Feldman
"We're Sailing Out Over the Ocean", "The Construction Song"
November 11, 1997
After observing a construction site, the kids are inspired to erect their own building. When BJ makes building plans too big, the kids help him realize that teamwork makes work easier and much more fun.
8

"It's Tradition"

Perri Verdino-Gates
Fred Holmes
"A Family Tradition"
November 12, 1997
The kids share their own family traditions. They make family flags and go camping. Stella stops by to tell a story about a special family quilt.
9

"A Picture of Health"

Mitch Lobrovich
Mark S. Bernthal
Steven Feldman
"It's a Great Day", "Oh, How I Love Trees", "Squishy, Squashy, Washy"
November 13, 1997
Hannah's allergies and Scooter's cold leads the group to discuss the importance of staying healthy. Barney sets up a make-believe doctor's office in the treehouse.
10

"Play Ball!"

Stephen White
Fred Holmes
"When You Have a Ball", "Roll, Roll, Roll the Ball", "Share Your Stuff", "In and Out the Windmill"
November 14, 1997
The kids can not figure out how to put together a complex robot toy. Barney brings out his vendo-ball machine to show the kids the greatest simple toy of all: the ball.
11

"A Different Kind of Mystery"

Donna Cooner
Steven Feldman
"It's a Fun, Fun Sunny Day!", "You've Got to Be You"
November 17, 1997
A mysterious sound from the classroom prompts Barney and the kids to investigate and figure out who it is. Along the way, the kids learn that each of them are different and special.
12

"Going On A Bear Hunt"

Perri Verdino-Gates
Fred Holmes
"It's C-C Cold BRRRR!"
November 18, 1997
It's Animal Adventures Week at school. The kids bring their favorite teddy bears. But when Stephen's teddy bear goes missing, Barney and his friends go on a bear hunt to help him find it.
13

"Let's Eat"

Heidi B. Kirby
Steven Feldman
"The Yum Yum Song"
November 19, 1997
Barney and the kids set up a pretend fancy restaurant to help Robert practice his manners.
14

"Tree-Mendous Trees"

Stephen White
Fred Holmes
"Way Up in a Tree"
November 20, 1997
Curtis is feeling sad because his friends are making fun of him for playing a tree in the school play. Barney teaches the group about the beneficial resources of trees.
15

"Good, Clean Fun!"

Perri Verdino-Gates
Steven Feldman
"Icky, Squishy, Gooey, Ooey", "Keep Your Sneeze to Yourself"
November 21, 1997
Hannah is getting ready for a sleepover at her aunt's house. Barney helps the kids develop good hygiene. From brushing teeth to taking baths, keeping clean and healthy can be fun.
16

"Easy, Breezy Day!"

Stephen White
Steven Feldman
"Why"
November 24, 1997
Barney teaches his friends about the wind. Chip and Curtis make small sailboats in the classroom. With a little imagination, Barney takes his friends on a hot air-balloon ride.
17

"All Mixed Up"

Troy Charles
Fred Holmes
"Gonna Have A Picnic", "The More We Crank The Handle"
November 25, 1997
When outdoor picnic plans are ruined by a rainstorm, Barney helps the kids prepare an indoor picnic. Meanwhile, Stephen is attempting to make lemonade but has trouble getting the taste to be just right. Barney teaches him that following directions is the key to success.
18

"Oh, Brother...She's My Sister"

Mark S. Bernthal
Steven Feldman
"Books Are Fun!"
November 26, 1997
After Baby Bop and BJ vow to never speak to each other again, Barney and his friends help them realize the delights of having a sibling.
19

"Once A Pond A Time"

Donna Cooner
Fred Holmes
"Every Animal Talks In Its Own Special Way", "The Gaggle, Giggle, Wiggle Dance"
November 27, 1997
Kristen moves her frog to the temporary pond out on the playground. The kids learn all about the different types of animals and plants that inhabit ponds.
20

"E-I-E-I-O"

Stephen White
Steven Feldman
"The Adventure Song", "The Butter Song"
November 28, 1997
Barney takes his friends to Hannah's Grandparents farm to acquire a jug of milk to go along with their peanut butter sandwich snack. On the farm, they learn all about the different types of farm animals as well as the process milk goes through before being shipped to stores.
Release
Home media
Barney's Good, Clean Fun! / Barney's Oh, Brother...She's My Sister was a two-pack released on home video with the same episodes of the same name from this season.
Trivia
This season marked:

The first season to air in only one month.
An e/i balloon is added to the 1993 PBS Kids logo with the P-Pals.
The first season in which Stella's stories are acted out by the kids while Stella narrates them.
The only season in which every episode had at least one new Barney song.

Another new walking animation is used for the Barney & Friends logo.
While the new Barney doll is introduced, the sparkles and the twinkle wink are the only two things that remain unchanged until Season 7.
Unlike previous seasons, the credits for this season only feature characters that appeared in the specific episode and not the entire cast.
Unlike previous seasons, the theme song for this season was edited after all twenty episodes were filmed.
The names on the cubbies in the classroom from left to right are Alissa, Ashley, Keesha, Robert, Stephen, Hannah, Chip, Kim, Jeff, Danny, Maria, Curtis, and Kristen.
References