Season 6
of
Barney & Friends
originally aired on
PBS
from November 1,
1999
to April 14,
2000
.
Cast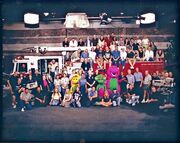 Dinosaurs
Children
Adults
Animals
Guest Appearances 
Episodes
#
Episode
Written By
Directed By
New Barney Songs
Original Airdate
Production Code
1

"Stick With Imagination!"

Mark S. Bernthal
Fred Holmes
None
November 1, 1999
After cleaning up the treehouse, Barney and his friends use their imagination to turn an ordinary stick into many different activities.
2

"Itty Bitty Bugs"

Perri Verdino-Gates
Alexander Laughton
None
November 2, 1999
The kids are having an afternoon picnic, when they realize that many insects reside all around them. This leads them to learn about the many different types of insects.
3

"Grandparents Are Grand"

Shields Freeman
Jim Rowley
I'd Love to Sail
November 3, 1999
Barney and the kids throw a surprise party for Kim's grandparents. BJ helps cheer up Jeff who misses his grandparents.
4

"Snack Time!"

Sandra J. Payne
Fred Holmes
None
November 4, 1999
Chip shares some afternoon snacks with his friends. Barney opens his own pretend fancy restaurant to help Baby Bop learn the importance of trying new foods.
5

"A Sunny, Snowy Day"

Perri Verdino-Gates
Alexander Laughton
None
November 5, 1999
Robert's souvenirs from his summer island vacation and Keesha's new winter apparel leads Barney to transforms the playground into an island paradise and a snowy wonderland.
6

"You've Got To Have Art"

Perri Verdino-Gates
Fred Holmes
None
November 8, 1999
Barney and the kids spend the day making arts and crafts for the school's art open house. The kids help BJ make something special for Baby Bop.
7

"Five Kinds Of Fun!"

Stephen White
Alexander Laughton
Jim Rowley
None
November 9, 1999
Barney brings out five special boxes: Each filled with special activities that correspond with one of the five senses.
8

"Count Me In!"

Sandra J. Payne
Jim Rowley
Sharing Together
November 10, 1999
Hannah's rock collection and Stephen's hat collection gives Barney the opportunity to emphasis the importance of counting. From playing number limbo to counting bubbles, the kids learn that counting can be easy and fun.
9

"Who's Who At The Zoo?"

Noreen Davis
Fred Holmes
What Will We See at the Zoo?
November 11, 1999
Stella the Storyteller brings Barney and the kids a birthday present that belongs to one of the animals at the zoo. With a note filled with clues, Barney and his friends figure out the birthday animal by learning about the different kinds of zoo animals.
10

"Birthday Olé"

Sandra J. Payne
Fred Holmes
None
November 12, 1999
It's Robert's Birthday, and Barney and the others are throwing him a surprise birthday fiesta.
11

"Excellent Exercise!"

Noreen Davis
Stephen White
Alexander Laughton
Exercising...Won't You Come and Join Me?
April 3, 2000
Coach Barney sets up a day filled with exercise activities to show Danny that exercise can be fun. Baby Bop and the kids participate in a relay race.
12

"Brushing Up On Teeth"

Stephen White
Alexander Laughton
What Would I Do Without My Teeth?
April 4, 2000
The kids practice smiling for their school pictures. This prompts Barney to discuss about the importance of dental hygiene. The kids give Barney a pretend dental check-up.
13

"A "Little" Mother Goose"

Stephen White
Jim Rowley
None
April 5, 2000
After Emily struggles with coming up with her own rhyme, Mother Goose visits Barney and the kids to show them that rhyming is easy and fun.
14

"Good Job!"

Evan Viola
Alexander Laughton
Look at Me, I'm Dancing
April 6, 2000
The kids use Barney's special hopscotch game to "try" on different career jobs.
15

"It's Home To Me"

Perri Verdino-Gates
Alexander Laughton
None
April 7, 2000
Hannah brings her dollhouse so her friends can play with it. Each of the kids talk about their favorite room in a house.
16

"How Does Your Garden Grow?"

Perri Verdino-Gates
Jeff Gittle
None
April 10, 2000
Barney and the kids help Mr. Boyd take care for the school garden. The kids make their own box gardens.
17

"You Can Do It!"

Perri Verdino-Gates
Jim Rowley
Growing Big and Tall
April 11, 2000
After feeling frustrated over jumping rope, Baby Bop learns the importance of perseverance.
18

"Here Comes The Firetruck!"

Shields Freeman
Alexander Laughton
Do Some Exercise
April 12, 2000
Hannah's firefighter neighbor and her firefighter friend visit the school to talk about fire safety. The kids get to explore a real fire engine.
19

"Ready, Set, Go!"

Stephen White
Alexander Laughton
None
April 13, 2000
Travel Agent Baby Bop takes Barney on an "Imagination Vacation" by using the different modes of transportation.
20

"You Are Special"

Stephen White
Fred Holmes
None
April 14, 2000
Barney gives the kids some empty books to have them fill it with things that makes them special.
Trivia
This season marked:

The first season to air in two years.
The first season to use the 1999 PBS Kids logo with Dot and Dash.
The first season to use 3 Barney costumes.
The last season to be produced by Lyrick Studios.
The final appearances of Hannah, Chip, Linda, Stella the Storyteller, The Adventure Screen, and The Barney Bag. Stella would eventually return in the new content of The Best of Barney.
The last time Barney is voiced by Bob West. David Joyner will continue to perform as the character until his departure in 2002.
The last television appearances of Keesha, Danny, Emily, Robert, Jeff, Kim, Stephen, Jill, Scooter McNutty and Miss Etta Kette.
The last season to take place at the school and the treehouse.
The last season to use the credits with the shoes in front of the purple TV.
The last season in which Dennis DeShazer served as executive producer.

Despite the second half of the season airing in 2000, all 20 episodes were filmed and produced by 1999.
"Itty Bitty Bugs" and "Five Kinds of Fun!" are the only Season 6 episodes to utilize the Barney costume from Season 5. This could possibly be because these were the first two episodes that were filmed for this season and the new Barney costume for this season wasn't completed yet when those two episodes were being filmed.
Stephen starts wearing glasses this season.
Hannah's ears were pierced this season.
The names on the cubbies in the classroom from left to right are: Chris, Zach, Amy, Jeff, Robert, Keesha, Stephen, Hannah, Dennis, Jill/Linda, Emily, and Lauren. Jill and Linda share the same cubby.
In this season, Scooter McNutty and Miss Etta Kette appear less frequently than they did the previous two seasons.
Starting in this season, Mera Baker (Keesha) does the fundings for the show. Reruns of Season 4-5 would use her recording. Season 7-8 also use her recording. Along with Mera Baker (Keesha) doing the fundings for the show, the fundings itself have changed from "Barney & Friends was made possible by the Corporation for Public Broadcasting and the financial support of Viewers Like You and by (sponsors)" to "Barney & Friends was made possible by: (sponsors) and by contributions from your PBS stations from Viewers Like You! Thank You!" and This would last until the end of the series but with different backgrounds and announcers and sponsors.
Barney Doll Closing Shot
Community content is available under
CC-BY-SA
unless otherwise noted.