Sheryl Lyna Stamps-Leach (born December 31, 1952 in Athens, Texas)[1] is best known as the creator of the Barney franchise, having involvement and producing the video series, Barney & The Backyard Gang, and its successor, Barney & Friends, alongside co-creators, Kathy Parker and Dennis DeShazer.
Career
Barney
In Fall 1987, Leach was stuck in a traffic jam thinking about the lack of videos that held the attention of her two-year-old son, Patrick.[4] At this time, the only preschool aged programs around were Sesame Street and Mister Rogers' Neighborhood, however, they appealed to a larger age range, rather than strictly toddlers. At the time, the only thing that could hold Patrick's attention was a "Wee Sing" video.[5] This prompted Sheryl Leach to develop a show herself. Her initial thought was the notice of children carrying snugly security objects, such as blankets and teddy bears. Sheryl Leach thought the idea of a talking blanket and teddy bear interacting with children were a neat idea, however, the blanket concept was too hard to pull off. The bear concept was eventually scrapped due to her son having an interest in dinosaurs after visiting a Science Place exhibit.
Barney & The Backyard Gang
Sheryl Leach proposed a preschool video series, which eventually would be Barney & The Backyard Gang, to DLM, Inc (Developmental Learning Materials). At the time Sheryl Leach was working at DLM, Inc. as a writer. The board she proposed to turned her down. Owner of DLM, Inc., Richard C. Leach, who was Sheryl's father-in-law, agreed to back her with the project with $700,000 of his own money. Leach's idea was brought to production at The Lyons Group, in which she was the president of the company[4] from 1988-1995.
Leach then brought together a team who created a series of home videos called Barney & The Backyard Gang. The videos were sold directly to the public.
Barney & Friends
Later, in 1991, Connecticut Public Television employee Larry Rifkin rented a Barney video for his daughter. He liked the concept, so he spoke with Leach and other creators about putting Barney on television. In October of that year, production began on the new TV show, titled Barney & Friends, and in April 1992, it first aired on PBS. Leach was an executive producer of the series until 1998, leaving co-creator Dennis DeShazer as executive producer until the HIT Entertainment acquisition. Leach made a brief return in 2001 as she was tapped to consult with the crew about the changes for season seven.[6] Leach became a shareholder at HIT Entertainment in which she held 35.5% of HIT shares alongside others.[7][8]
Post-Barney
Following Leach's time on Barney & Friends, her name continued to be in the credits of videos as the "Founder/Creator".
Achievements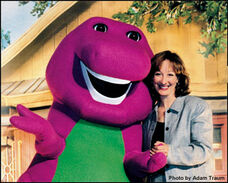 Barney
Leach has received numerous awards and honors for her achievements with Barney. Leach was named "Entrepreneur of the Year" by the CNBC cable network, has been honored with a National Freedoms Foundation award and received a national humanitarian award from B+nai B+rith International - the first woman to receive this prestigious award since Eleanor Roosevelt. Her speaking credits include the National Press Club in Washington, D.C., The Detroit Economic Club and the national conference of American Women in Economic Development. She has been a featured guest on many talk shows including The Today Show, Good Morning America, CBS This Morning, The Home Show and Donahue.[9]
Credits
Personal Life
Barney
While working as a writer at DLM Inc, Leach met James "Jim" Leach. With a year, they dated and got married when she was thirty-years-old. Together, the two of them had a son named Patrick Leach. In Fall 1987, Leach was stuck in a traffic jam thinking about the lack of videos that held the attention of her then two-year-old son, Patrick.[4] This thought would lead to the creation of Barney & Friends and the preceding Barney & The Backyard Gang videos.
Gallery
Barney & Friends
Trivia
Although Leach was credited as an executive producer for As Músicas Favoritas - Vol. 1, she was an not executive producers of the series when the album was released. However, she was an executive producer during the time that some of the tracks were recorded.
Barney
During the original run of Barney's Colorful World! (2003-2004), the intermission consisted of Leach coming "backstage" to bring roses to Barney in his dressing room and congratulating him on how well the "show" was going so far.
Leach's philosophy for Barney has been unwavering: "Barney is a friend to children. He celebrates childhood and sends to all the message that every child is extraordinarily special."
People
Relatives
Sheryl Leach's former brother-in-law, Tom Leach,[12] was a director of special projects for My Party with Barney.
Sheryl Leach's former brother-in-law, Edmund Leach, was a video graphic designer for Barney & Friends from 1992-1993.
Videos
Interviews
References