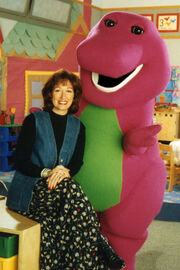 Sheryl Lyna Stamps-Leach (born December 31, 1952) is best known as the creator and producer of Barney the Dinosaur and the whole Barney franchise including the series Barney & the Backyard Gang and Barney & Friends. Kathy Parker and Dennis DeShazer joined her in creating the show. Leach left the show in 1998, leaving Dennis DeShazer to run the series until HIT Entertainment brought Lyrick Studios.
Career
Leach, a former teacher, worked with Parker on the idea that would become the eventual TV show in 1987. Originally, the star was going to be a teddy bear,[citation needed] but since her toddler son had an interest in dinosaurs, the character changed to a dinosaur. Leach then brought together a team who created a series of home videos called Barney and the Backyard Gang. The videos were sold directly to the public.[2] Later, in 1991, Connecticut Public Television employee Larry Rifkin rented a Barney video for his daughter. He liked the concept, so he spoke with Leach and other creators about putting Barney on television. In October of that year, production began on the new TV show, titled Barney & Friends, and in April 1992, it first aired on PBS. In November 1993, Sheryl talked about the success and creation of Barney at The National Press Club in Washington, D.C.
Currently, Leach's company SL Productions LLC is developing a feature film of The Unicorn Sonata, based on the novel by Peter S. Beagle. Additionally, with her husband, Howard Rosenfeld, she has created and funded the Shei'rah Foundation, a not-for-profit organization using media to encourage understanding between differing cultures. Leach, the daughter of Texas educators Billy and Mary (Whiteside) Stamps, was born in Henderson County, Texas, and raised in Dallas. A graduate of Kimball High School in Dallas, she holds a bachelor's degree from Southern Methodist University and a master's and honorary doctorate from Texas A&M University–Commerce
Gallery
Community content is available under
CC-BY-SA
unless otherwise noted.