Sprout (formerly PBS Kids Sprout) was an independent American digital cable and satellite television network that was originally spun-off from the children's programming block, PBS Kids. During its final years, it was solely owned by the NBCUniversal Cable subsidiary of NBCUniversal which is owned by Comcast. The channel launched on September 26, 2005 and primarily targeted preschoolers. Its lineup featured a mix of originally-produced programming, along with acquired programming.
Sprout was originally formed by Comcast in conjunction with Sesame Workshop, PBS and HIT Entertainment. Sprout was available on many major cable networks, as well as DirectTV. Featuring a complimentary video-on-demand (VOD) service and website, Sprout replaced the PBS Kids Channel that originally was available prior to the channel's debut. Sprout was available to approximately 58 million pay television households (49.8% of households with television) in the United States.[3]
Apax Partners, the former owners of HIT Entertainment, sold their share of the network in 2013. Mattel, the current owners of HIT Entertainment, did not take said share when it bought the company a year earlier. Sesame Workshop and PBS followed suit, giving NBC Universal full control of the network. The channel eventually was rebranded to Universal Kids as a result of Comcast gaining full control.
History
Origins
The origins of the channel emerged in early 2004 during an executive meeting in New York City. Joyce D. Slocum, who worked for HIT Entertainment at the time, and another company executive were discussing the difficulty for producers like HIT to find distribution platforms when companies such as Disney and Nickelodeon did both and had incentives to air their own shows. It was concluded that if there were channels that stuck to one topic, such as golf, then there should be a market for children's programming. Soon HIT executives approached PBS, which had been considering the same idea. At this time, PBS had an unsuccessful PBS Kids channel. Both HIT and PBS soon approached Comcast about starting a 24/7 children's channel with Sesame Workshop eventually joining. Negotiations for the channel took more than a year. Among the sticking points was whether to air commercials. Because PBS is a nonprofit organization that is also noncommercial, it airs only short spots identifying program underwriters before and after shows. Comcast, on the other hand, is a for-profit company that sells ads. The parties eventually compromised: allow commercials to bookend but not interrupt shows, and the advertisements are required to be targeted at parents, not children.[4] The announcement of the channel and partnerships were made on October 20, 2004.[5]
Promotion and Launch
When the (original) PBS Kids channel was shutdown, some PBS affiliated stations helped to promote the newly announced PBS Kids Sprout, with some affiliates replacing the PBS Kids channel for Sprout later down the line. A launch party for PBS Kids Sprout was held at Yerba Buena Gardens in San Francisco, California on April 4, 2005.[6] During this same month, Sprout launched PBS KIDS Sprout On Demand, a video-on-demand (VOD) service which debuted on Comcast ahead of the twenty-four hour digital cable channel that would launch in the fall.[7] The digital cable channel was intially scheduled to release on September 1, 2005, but was delayed to September 26, 2005.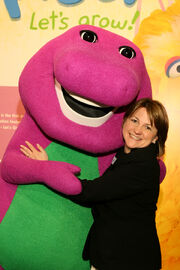 Ownership change
Comcast acquired a 51% majority stake of the NBCUniversal in January 2011 (and would assume full ownership of the company on March 19, 2013). As a result, Comcast's interest in Sprout was turned over to NBCUniversal. When Apax Partners sold HIT Entertainment to Mattel on October 24, 2011, HIT's ownership interest in Sprout was not included in the deal and was retained by Apax Partners.[8] On November 13, 2013, NBCUniversal acquired Apax and PBS's shares in the network, giving the company full ownership of the network, with its operations being merged into its NBCUniversal Cable subsidiary.[9] As a result, the "PBS Kids" branding was dropped from the network's name, renaming it as Sprout.[10] The channel eventually moved its headquarters from Philadelphia, Pennsylvania to 30 Rockefeller Plaza in Manhattan, New York City, NY.
On Sprout's 10th anniversary on September 26, 2015, the network received a rebrand and shifted focus towards original shows, such as Nina's World, and removed older acquired shows such as Barney & Friends. Only two shows that have been on the channel since its launch, Caillou and The Berenstain Bears, remained on the network. Caillou continued to air on the network until March 31, 2019, while The Berenstain Bears continued to air on the network until the channel rebranded into Universal Kids. Under NBCUniversal ownership, the channel began to shift away from its original focus on library content, and invested more heavily in original programming to displace older, licensed content to better compete with fellow preschool-oriented pay-TV networks Disney Junior (part of Disney-ABC) and Nick Jr. (part of ViacomCBS), which in turn was also partially made by Sesame Workshop. Under NBCUniversal, programs seen on the network such as The Chica Show earned increased visibility airing on NBC as part of the NBC Kids block.[11][12]
Universal Kids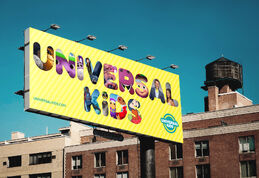 Main Article: Universal Kids
On May 1, 2017, NBCUniversal announced that Sprout would rebrand as Universal Kids on September 9, 2017. With the rebranding, the network revamped its evening and primetime programming to aim preteens aged 8–12. Universal Kids continues to broadcast preschool programming, initially retaining the Sprout brand, occupying fifteen hours per-day of programming from 3:00 a.m. to 6:00 p.m. LT. Network president Deirdre Brennan claimed that Universal Kids' new programming would be renowned from its competitors, stating that "we're offering something to 2 to 12 year olds that has a slightly different purpose — widening their eyes, opening their minds and celebrating many aspects of being a kid. We have great [shows] for the preschoolers, which is important, but we needed to grow up with the rest of the family." Universal Kids will initially focus on acquired programs and unscripted series (such as Top Chef Junior, a spin-off of the Bravo reality franchise Top Chef), with plans for scripted original programming in the future. NBCUniversal intended to make "significant" investments in original content for Universal Kids over the next three years. The launch lineup included a large number of international acquisitions, particularly from the U.K., Australia, and Canada; Brennan acknowledged that since youth audiences had become "globally aware", the network wanted to showcase foreign series that had not yet aired in the United States.
Programming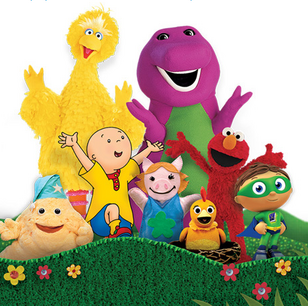 Final programming
Original programming
| Title | Premiere date |
| --- | --- |
| Astroblast! | July 12, 2014 |
| Ruff-Ruff, Tweet and Dave | February 14, 2015 |
| Super Wings | March 14, 2015 |
| Clangers | June 20, 2015 |
| Nina's World | September 26, 2015 |
| Floogals | January 23, 2016 |
| Terrific Trucks | July 9, 2016 |
| Noddy, Toyland Detective | September 3, 2016 |
| Dot. | October 22, 2016 |
| The Ollie & Moon Show | May 27, 2017 |
| Kody Kapow | July 15, 2017 |
| School of Roars | August 12, 2017 |
| Snug's House | August 19, 2017 |
Acquired programming
Title
Premiere date
The Jungle Bunch
March 19, 2016
The Doozers
May 28, 2016
The Furchester Hotel
September 26, 2016
Topsy and Tim
June 17, 2017
Ranger Rob
July 8, 2017
Maya the Bee
September 26, 2015
Sydney Sailboat
YaYa and Zouk
February 20, 2016
Chloe's Closet
July 12, 2010
Sarah and Duck
August 19, 2013
Zou
September 2, 2013
Stella and Sam
November 1, 2013
Zerby Derby
March 1, 2014
Lily's Driftwood Bay
May 12, 2014

The Wiggles
August 24, 2009
Space Racers
October 31, 2016
Caillou
September 26, 2005
Former programming
Original programming
| Title | Premiere date | End date |
| --- | --- | --- |
| The Many Adventures of Mr. Mailman | July 3, 2006 | July 3, 2010 |
| Pajanimals | November 3, 2008 | March 8, 2013 |
| Noodle and Doodle | September 25, 2010 | March 9, 2013 |
| The Chica Show | November 19, 2012 | May 10, 2015 |
| Sing It, Laurie! | March 25, 2013 | 2015 |
Acquired programming
Animated
| Title | Premiere date | End date |
| --- | --- | --- |
| The Three Friends and Jerry[13] | 2005 | 2006 |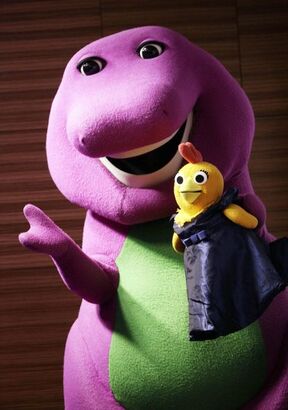 Preschool
Title
Premiere date
End date
Pingu
September 26, 2005
April 14, 2010
Fireman Sam
July 6, 2014
Big Sister, Little Brother
August 18, 2009
Kipper
July 26, 2015
The Hoobs
December 25, 2006
February 13, 2009
Play with Me Sesame
September 26, 2007
May 14, 2016
Fifi and the Flowertots
January 14, 2008
February 23, 2014
Panwapa
January 19, 2008
August 6, 2009
Pic Me
May 5, 2008
May 5, 2011
Dive, Olly, Dive!
June 7, 2008
August 10, 2014
Frances
June 20, 2008
October 1, 2009
Roary the Racing Car
September 26, 2008
July 7, 2012
The Mighty Jungle
April 24, 2009
June 19, 2015
Rubbadubbers
August 20, 2009
November 6, 2011
Dirtgirlworld
April 22, 2010
November 6, 2012
Nina's Little Fables
June 28, 2010
December 9, 2013
Monkey See, Monkey Do
August 24, 2010
August 18, 2013
Driver Dan's Story Train
November 1, 2010
October 31, 2013
What's Your News?
December 31, 2010
February 23, 2014
LazyTown
September 5, 2011
September 26, 2016
Poppy Cat
November 7, 2011
Justin Time
April 22, 2012
June 19, 2015
64 Zoo Lane
August 27, 2012
July 26, 2015
Olive the Ostrich
Wibbly Pig
Tree Fu Tom
April 22, 2013
September 26, 2016
Earth to Luna!
August 16, 2014
September 26, 2016
Boj
October 11, 2014
Little People
March 7, 2016
February 23, 2017
Programming from PBS Kids
Title
Premiere date
End date
Boohbah
September 26, 2005
December 19, 2009
Jay Jay the Jet Plane
July 3, 2009
Bob the Builder
July 7, 2019
Barney & Friends
September 26, 2015
Dragon Tales
August 31, 2010
Thomas & Friends
July 26, 2015
Make Way for Noddy
Sesame Street
The Berenstain Bears[14]
September 9, 2017
Teletubbies
September 5, 2009
Angelina Ballerina
July 26, 2015
Sagwa, the Chinese Siamese Cat
March 16, 2009
Zoboomafoo
July 7, 2011
Jakers! The Adventures of Piggley Winks
March 31, 2009
Franny's Feet
July 4, 2008
August 18, 2013
Mama Mirabelle's Home Movies
January 26, 2009
October 24, 2012
Super Why!
March 21, 2011
September 26, 2015
Sid the Science Kid
March 25, 2013
October 3, 2014
Blocks
The programming blocks below were all shown under the Sprout banner.
Title
Premiere date
End date
The Birthday Show
September 26, 2005
May 12, 2009
The Good Night Show
March 31, 2017
Sprout Diner
September 18, 2006
September 20, 2008
Sprout Sharing Show
May 21, 2007
May 11, 2014
The Let's Go Show
June 25, 2007
September 24, 2010
Musical Mornings with Coo
September 26, 2007
August 21, 2009
The Sunny Side Up Show
August 11, 2017
Sprout's Snooze-a-Thon
December 24, 2007
December 25, 2015
Wiggly Waffle
August 24, 2009
March 22, 2013
The Super Sproutlet Show
February 14, 2012
June 19, 2015
Family Movie Night
September 26, 2015
September 8, 2017
Barney & Friends
Barney & Friends was one of the initial shows on Sprout when it first aired, along with favorites like Sesame Street and Bob the Builder. The show lasted on the channel until September 2015, making it one of Sprout's longest lasting programs.
Broadcast
2005: Barney & Friends becomes one of the launch shows for Sprout, with episodes from seasons four through eight initially shown.
April 2, 2008: Season nine episodes are added.
December 10, 2010: Barney's Christmas Star airs.
December 24, 2010: Barney's Night Before Christmas airs during Elmo's Movie Merry-thon.[15]
March 21, 2011: Season ten episodes are added.
August 2011: Episodes from seasons one through six are removed from the channel.
October 2011: Season eleven and twelve episodes are added.
December 13, 2011: Barney's Christmas Star re-airs on the channel.[16]
2011: A clip of BJ, Riff and Baby Bop sleeping, from the episode "Days of the Week" was one of many clips broadcasted during Sprout's Snooze-a-Thon.
2012: Season thirteen episodes are added.
2013: A clip of BJ, Riff and Baby Bop sleeping, from the episode "Days of the Week" was one of many clips broadcasted during a re-airing of Sprout's Snooze-a-Thon.
September 26, 2015: Barney & Friends is removed from the Sprout schedule, along with other HIT Entertainment properties, in order for original shows on its network.[17]
Release
Appearances
Television
2005: Barney hosted a Thanksgiving marathon, presenting a six hour block of Barney & Friends episodes.
2006: Barney appears on the Sprout Diner block. In honor of the character, Barney's Purple Hummus Dip was created.
2007: Barney appears on The Sunny Side Up Show for Thanksgiving with Nina from The Goodnight Show and Chica.
2009: Barney appears on The Sunny Side Up Show for Valentine's Day with Sean Roach and Chica.
February 14, 2010: Barney co-hosts Sprout's Dino-Mite Valentine's Sing Along, along with Dorothy the Dinosaur from The Wiggles.
August 17 & 18, 2010: Barney appears on The Sunny Side Up Show with Kelly Vrooman and Chica to promote "Dinosaurs" week.
March 31, 2011: Riff appears on The Sunny Side Up Show with Liz Filios and Chica for "Friends" week in honor of season ten of episodes of Barney & Friends premiering on Sprout.
November 22, 2011: Barney appears on The Sunny Side Up Show for Sprout's "Thanks for Giving" week. During this appearance calls were received from Sproutlets who have been doing something kind.
Public
2008-2010: Barney tours with Chica, along with some hosts from The Sunny Side Up Show for "Barney's Sprouterrific Playdate".
2010: A Sprout's Birthday Sweepstakes was held. The winner would have Barney, Chica, and a host from The Sunny Side Up Show come to his or her birthday party.
June 15, 2011: Barney, and Chica from The Sunny Side Up show, attend the NBC Universal VIP party during the Cable Show 2011 at Privet Nightclub and Lounge in Chicago, Illinois.
Gallery
Public appearances
Sprout Launch Party
The Sunny Side Up Show
Website
Trivia
Season 14 is the only season of Barney & Friends to not get broadcasted on the network.
Nina and the kids once did "Barney's Pretend Flying Stretch" on The Good Night Show. This segment aired during the dinosaurs blockisode.[18]
The clip of Barney calling Bean in the Sprout Diner episode was taken from the episode, "Pennies, Nickels, Dimes".
Videos
Advertisements
References