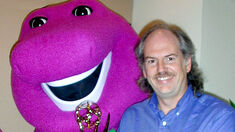 Stephen White (born September 3, 1952) was the head writer of the Barney franchise from 1992-2005. He was replaced as head writer by Carter Crocker, but continued to write on the series from 2006-2007. He only did not write many of the Barney & Friends episodes and home videos, but also Barney's Great Adventure, many books, live appearances, and even some original songs for the franchise.
Biography
Barney & Friends
Stephen White first heard of the Barney series through Bob West while working on shows for Chuck E. Cheese's. Since White was a freelance writer at the time, he decided to send in a resume stating that he would like to work with the people at PBS after seeing that Barney & Friends was a soon to be series.
When Stephen White didn't hear back from them, he decided to send in another letter of congratulations (as a reminder). The creator of Barney, Sheryl Leach, got back with him quickly. He showed her some of his work that he had done before with Chuck E. Cheese, and he and Mark S. Bernthal were hired.[1]
Other Projects
Like many other of the Barney team, Stephen White was credited on "BOZ the Bear", a Christian direct to video series (incidentally Barney also was supposed to be a bear). He also has created a few children's book apps, AlphaBELCH and Thumbpire, and plans to do more soon.
Personal Life
Stephen White was born, and he raised in Indianapolis, Indiana, and he later moved to Bloomington, Indiana to attend Indiana University.[2]
Barney Projects
Trivia
References
External Links