"Stop, Look And Be Safe!" is the fourteenth episode from the second season of Barney & Friends.
Plot
The episode begins with Tosha and Jordan playing with a toy farm. Tina and Derek greet the both of them, and the group sings "BINGO" with Barney coming to life to complete the verse.
Michael arrives, and when asked about why he has a stop sign, he informs the group that he is a school crossing guard, and he helps the kids get to and from school. While watching Michael help Jordan return home, the others turn the playground into a castle. When Tosha suggests having a "scary" adventure complete with a dragon, BJ's tell-tale whistle signals his arrival, and he attempts to force his way inside. After being told to mind the safety rules of the playground and to ask politely, BJ enters the castle.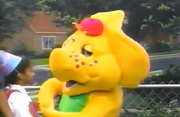 Upon seeing Michael, BJ inquires as to how he got to be a crossing guard; Michael explains that crossing guards need to know all the safety rules about crossing the street. Tosha adds to the discussion, advising against running into the street after a pet or a toy. After the group imagines what vehicles they'd like to drive on the street, Barney pretends to be a bus driver, and the kids join in.
While BJ and Derek go explore the castle, the rest of the group goes inside. When Tosha expresses excitement about the soon-to-be arrival of her new sibling, Michael offers to show them how to make streamer kites to hang on the wall. After bringing out the Barney Bag, Michael explains the process, and Tosha and Tina fly their kites via Barney bringing wind inside.
When Tosha puts the kites in her cubby, Barney asks what else she plans to take home with her. She shows him a picture of Mary and her lamb, a picture she also plans on hanging up. After singing the song, Tosha expresses her confusion, wondering what was wrong with the "laughing and playing" the children in the song were doing. Barney explains that, while there isn't anything inherently wrong with having fun, there is a time and a place in school to do it so as to not affect the learning of others.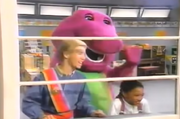 After differentiating "indoor" and "outdoor" voices, the group reconvenes outside to talk about when using an "outdoor" voice is helpful. Michael explains that using a loud voice when being approached by a stranger is a good way to stay safe. When Tina mentions that a police officer came to school to explain these safety rules, Tosha adds that firefighter came to her class as well. Wanting to be firefighters themselves, Barney leads the group in driving a make-believe firetruck.
Shortly after, BJ explains that he needs to head home, but will be sure to teach Baby Bop all the safety rules he has learned. When Tina asks why BJ has left in such a hurry, Barney explains that BJ wants his sister to know as soon as possible because of how much he loves her, just as Barney loves them. After saying goodbye to Barney, Michael walks the kids home safely.
Songs
Trivia
Goofs
Before Barney came to life, the toy farm is in front of the kids. However, when Barney appears, the toy farm is moved to near the tree.
Michael missed Barney's hand when he high fived him.