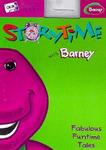 Storytime with Barney
is a series that was released in 1996. The cassettes, in a way, were a continuation of the
Bedtime with Barney
radio show, as many stories featured on them were also read on the show. There are 4 volumes on cassette. The first two were released in 1996, while volumes 3 & 4 were released in 1998 with crayons and an activity book. Volumes 1 & 2 were also re-released in 1998 with the books and crayons. Each volume contains 6 stories and also features the "Storytime with Barney" song. Each tape included at least one original Barney story. The stories are as follows:
Volume 1
Jump Jump Jump
Chicken Little
The Cricket & The Mouse
Roly Poly Rice Ball
Volume 2
The Queen's Contest
The Gingerbread Boy
Carrot Tops & Carrot Bottoms
The Ugly Duckling
Volume 3
The Giants
Tug of War
City Mouse & Country Mouse
Pig Tales
Volume 4
The King's Minstrel
The Walnut Tree
The Little Porridge Pot
The Turtle & The Beaver
The Big Cheese
Community content is available under
CC-BY-SA
unless otherwise noted.