A Sunny, Snowy Day is the 5th episode from Season 6 of Barney & Friends.
Plot
Robert is showing Jeff and Linda pictures from his island vacation. Barney comes to life and transforms the playground into an island paradise. Later, Keesha comes to the playground with her new winter clothes. With a little imagination, it begins to snow! The kids play in the snow and build a snow-dinosaur. It's a day full of super-dee-duper sunny, snowy fun!
Educational Theme: Weather and Seasons.
Trivia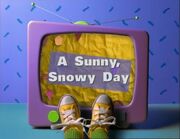 Robert wears the same winter clothes in Barney's Night Before Christmas.
Linda is the last child to leave the classroom, and she turns out the lights.
In some portions of this episode, the song Jingle Bells plays as an underscore.
this has snowcones in that-
'
your not supposed to give the last one to someone else