Derek Richards was a character played by Rickey Carter who debuted in the Backyard Gang video Waiting for Santa. He also appeared in the later videos of the series, as well as in the first two seasons of Barney & Friends
About Derek
Derek Richards lives with mother, father, two brothers, a pet goldfish (named Angel), and a dog (named Fluffy). His Granddad Richards came for a visit in the Barney & Friends episode, "Grandparents are Grand".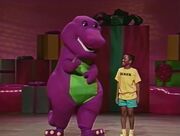 Derek enjoys reading books, making jokes, and playing baseball.
Derek was replaced by Kenneth along with Tina, who was played by Nathan Regan.
Appearances