Te Quiero Lo Mejor de Barney (I Love You: The Best of Barney) is a soundtrack with songs from the home video Sing and Dance with Barney and is Barney's seventh spanish album. It was released in 2000 by Tycoon Music.
The soundtrack was soon re-released by HIT Entertainment and Universal Music Argentina in 2004.
Just like Sing and Dance with Barney, this album was released in honor of Barney's 10th Anniversary during it's original release.
It was the third Barney spanish soundtrack to be released based on a video and was the first spanish soundtrack to not be based on a live performance. Although some Barney Home Videos have a US album counterpart, this is the first soundtrack to not.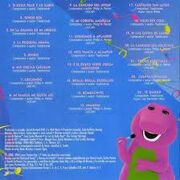 Track listing
Personnel
Credits for Te Quiero Lo Mejor de Barney adapted from the CD pamphlet.
Vocals

Jose Carlos Moreno — lead vocals, voices (Barney)
Elsa Covian — vocals, voices, chorus (Baby Bop)
Lobegami Santini — vocals, voices (BJ)
Maggie Vera — chorus
Romy Mendoza — chorus

Visuals and imagery

Mark Murphy – art designer
Leonor Egea - art designer

Production

David Bernard Wolf — producer, arranger
Eduardo Tejedo - musical director and lyrics
Jonathan Smith - music administrator, researcher

Technical

Gary French - mixer
Carlos Agosil - mixer
Juan Lomeli - mixer
Release history
Region
Date
Format
Label
Mexico
2000
CD
Tycoon
Argentina
2004
Universal • HIT