The Best of Barney is a Barney Clip Show, celebrating Barney's 20th Anniversary that was released on September 9, 2008.
Plot
Tracy gives her friends, including Barney, souvenirs from a trip to the beach. When Barney tries to put his shell in his memory box, it explodes, spreading memorable objects all across the park. Throughout the day, Barney and the kids meet up with Riff, Baby Bop, and BJ, while remembering great times with friends. From musical instruments to a globe hanger, the day is a memorable one. It even becomes more memorable when Mr. Boyd makes a return visit, as a photographer that Ryan and Emma know. Stella the Storyteller also returns to give Barney a memory book about most of his friends through the years. In the end, everything fits in the memory box and everything ends on a good note.
Cast
Songs
Gallery
Releases
Trivia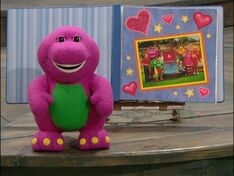 This video marked:
Unlike in Sing And Dance With Barney, this video marked the first time in an anniversary special in where Barney changes back into a doll and anyone says 'goodbye', because these were ommitted during the former. Other differences include that this anniversary special features actual clips from the previous seasons and included Mr. Boyd and Stella, and most of the kid cast from the previous eras were asked to have a guest appearance (especially Shawn who could not make it in the first place because of a prior commitment). There were more original songs from the later generations being featured in this video, and this also omits the theme song, since there was also an intro made especially for this video.
A clip from "Splish! Splash!" was shown in the beginning. It was when Barney was jumping in the pool and as the clip faded, Barney fell in the pool, showing that the clip was a behind the scenes and Barney (costume) actually fell. It might've been a blooper. This Barney video is the first time to feature one.
The scene from Barney's Beach Party is re-dubbed with Dean Wendt (replacing Duncan Brannan's original recording).
Baby Bop and BJ make a reference to "The Wizard of Oz". She says to him, "I don't think we're in the park anymore.". Then, she asks where they are, and he says, "It looks like Kansas.".
Footage from Once Upon A Time is the only footage of the video where Barney is not re-dubbed by Dean Wendt (Bob West's voice is still there.).
This video was released 6 years after "Stop! Go!" aired and 4 years after "Movin' Along" aired.
Production for this video took place in August 2007.
See Also