The Little Big Club: Christmas Carnival is a stage show featuring many Hit Entertainment characters, including Barney, Baby Bop and BJ.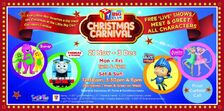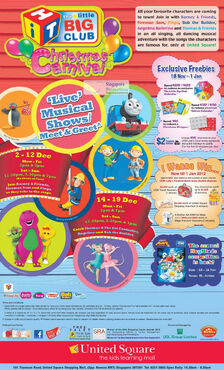 The show first performed in the United Square in 2011, and from November 21 to December 3, 2017 at One KM Mall in Singapore.
Songs
Barney's Skit
Gallery
Trivia
Both 2011 and 2017 versions marks the only times Riff doesn't appear in a Little Big Club mall show. Both versions are also the only times that the show is presented by two female hosts, Penny and Charlie. However in the 2017 version, they are also accompanied by another male host, Ringo the Ringmaster, as well as two helpers, a mime and a clown, whom entertains the audience before the show starts.
In the 2017 appearance, Barney, Baby Bop and BJ wear the same outfits from Barney & Friends: Party Time during the finale.
See Also