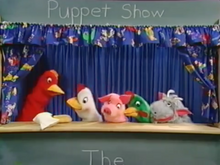 The Little Red Hen is a children's story that first appeared in Caring Means Sharing.
Synopsis
After not receiving any help from her other friends, the little red hen decides to eat the bread all by herself. This prompted the other animals to help her the next time the hen decides to bake bread.
Cast
Caring Means Sharing
Any Way You Slice It
Snack Time!