"The Treasure Of Rainbow Beard" is the seventh episode from the first season of Barney & Friends.
Plot
Imagine the surprise when "Rainbow Beard," the wondrous but not-that-scary pirate comes whooshing out of a magic bottle! He promises a treasure chest full of fun if Barney & Friends follow the clues on a mysterious map. And the clues couldn't be more fun! They're a half-dozen games that involve shapes and colors and music and rhymes. Matching and mixing those shapes and colors is the adventure that unlocks the treasure. And unlocks a load of delight!
Songs
Trivia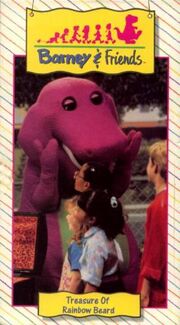 This episode was released in Barney's Colors & Shapes, along with "Red, Blue And Circles Too!"
Stephen White plays Rainbow Beard the Pirate in this episode.
The bottom of the magic bottle can be seen before Barney pulls it out of the book.
When Barney pulls the magic bottle out of the book, it is quite apparent that the book is filled with blank pages.
The bottle containing the map was actually a leather-wrapped chianti bottle that Stephen White purchased from a garage sale.
This is also the only episode to feature Barney on the tire swing with a rainbow appearing above him on it, (like in the ending of the theme song).
International Edits