Universal Kids is an American children's network owned by the NBCUniversal Television and Streaming unit of NBCUniversal. The channel was originally known as Sprout and re-branded under its current name on September 9, 2017. With the rebrand, the network expanded its primetime programming to focus on a wider youth audience aimed at older children. They continue to broadcast preschool-oriented programming under the "Universal Kids Preschool" branding during daytime hours.
History
Sprout (2005-2017)
For the history of Universal Kids prior to its rebranding, see: Sprout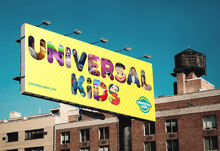 Rebrand
On May 1, 2017, NBCUniversal announced that Sprout would rebrand as Universal Kids on September 9, 2017. With the rebranding, the network revamped its evening and primetime programming to aim preteens aged 8–12. Universal Kids continues to broadcast preschool programming, initially retaining the Sprout brand, occupying fifteen hours per-day of programming from 3:00 a.m. to 6:00 p.m. LT. Network president Deirdre Brennan claimed that Universal Kids' new programming would be renowned from its competitors, stating that "we're offering something to 2 to 12 year olds that has a slightly different purpose — widening their eyes, opening their minds and celebrating many aspects of being a kid. We have great [shows] for the preschoolers, which is important, but we needed to grow up with the rest of the family." Universal Kids will initially focus on acquired programs and unscripted series (such as Top Chef Junior, a spin-off of the Bravo reality franchise Top Chef), with plans for scripted original programming in the future. NBCUniversal intended to make "significant" investments in original content for Universal Kids over the next three years. The launch lineup included a large number of international acquisitions, particularly from the U.K., Australia, and Canada; Brennan acknowledged that since youth audiences had become "globally aware", the network wanted to showcase foreign series that had not yet aired in the United States.
Barney & Friends
On December 14, 2018, Universal Kids announced on their social media accounts that Barney & Friends would premiere on December 17 of that same year.[1] In its first two weeks, Barney & Friends outperformed the network average by +50% for preschoolers. During its run, the series had the network's highest gross rating point among children two to five years old and ranked number two in women eighteen to forty-nine.[2] The show was broadcasted on the network for a short while before ending up on VOD with episodes rotating.
Broadcast
Barney & Friends
2018
December 17: Barney & Friends returned to television and aired on Universal Kids in a marathon after a three year hiatus from Sprout and a year after the rebranding in 2017. It aired from Monday to Friday from 10AM to 1PM, with episodes from seasons eight, eleven and tweleve.
2019
January 1: Barney & Friends is aired on a regular time slot and episodes of season ten and thirteen are soon added.
February 14: Barney & Friends airs a marathon from 10AM to 3PM in honor of Valentine's Day, titled Barney's Super-Dee-Duper Valentine's Day Marathon. Beginning on February 9th, the network released a Valentine's Day Facebook themed profile frame filter of Barney. The filter lasted for a week.
February 18: In honor of a showing of How to Train Your Dragon on Universal Kids, the network hosted a marathon of Dragons and Dinosaurs featuring shows such as Dino Dan, The Land Before Time, and Barney & Friends. The Barney & Friends Marathon lasted from 6:30AM - 10AM and mainly consisted of season twelve episodes excluding "Glad to Be Me" / "Arts".
July 6: Episodes of season seven and nine are added, alongside additional episodes of season eight.
July 14: Barney & Friends was given a hiatus on the Universal Kids schedule. The show was still available via the Universal Kids app and VOD.
September 9: Barney & Friends returns to a normal schedule on the network, with the addition of adding more episodes of season seven, eight, and nine to the network.
2020
January 25: Barney & Friends was removed from the Universal Kids schedule.
June 27: After a long hiatus from airing on the network Universal Kids airs a Barney & Friends marathon under the title Summer Games with Barney & Friends, Vol. 1. The marathon lasted from 6AM-8AM. The marathon was in honor of Universal Kids' Camp Play S'more! After Barney & Friends, the network continued the Summer Games with marathon with other shows.
June 28: Summer Games with Barney & Friends, Vol. 2 aired from 6AM-8AM, consisting of different episodes from volume one.
Social media
Due to Barney & Friends being on the network, Universal Kids posts various song clips, memes, and other social media posts revolving around Barney & Friends.
February 9, 2019: In honor of Valentine's Day and Barney being on the network, Universal Kids released a Valentine's Day/Barney themed filter on Facebook.
February 13, 2019: Universal Kids celebrates Barney fans by asking users to comment with a picture of how they show their Barney fandom for a chance to be featured on our their social media pages and television.
October 20, 2019: Universal Kids announces the Barney Sweepstakes where parents told them their kid's favorite Barney song for a chance to win the Barney Buddies plush toys of Barney, Baby Bop, and BJ.
Gallery
TV Bumpers & Logos
Awards and nominations
Barney & Friends
| Year | Award | Nominated work | Category | Result | Ref |
| --- | --- | --- | --- | --- | --- |
| June 2019 | Promax Award | "Barney: The True Story" trailer | Children Clip-Based Programming Spot | Bronze winner | [2] |
*The award went to Jared Cohen who wrote and produced the trailer.
Trivia
On February 7, 2019, American media personality Kylie Jenner shared to her Instagram Story that her (then one-year-old) daughter Stormi was watching Barney & Friends on Universal Kids in Jenner's lap enjoying it.[3]
Broadcast
Episodes of Barney & Friends that were broadcasted on the network were edited with a few scenes cut out as this change was presumably made so that it could easily fit within the network's timeslot for certain shows that were frequently aired during the time.
Like its predecessor, the fourteenth season was never aired on the network. The first six seasons were also not aired either although they were formerly shown during reruns when Sprout added them to their lineup in the mid 2000s.
Videos
Promos
The mission with the promos on Universal kids was to make Barney feel fresh and current without abandoning why preschoolers love him. The goal was also to grab the attention of parents who grew up with the show and or who didn't watch the show. They poked fun at parents with a faux movie trailer to unite the lovers and haters of the program.[2]
References