"Up, Down and Around!" is the second episode from Season 7 of Barney & Friends.
Plot
Tony wants to show off his handmade kite - but it doesn't have a string, so the kite isn't ready to fly. When an unexpected breeze blows it high in the treetops, Barney and the kids discuss the ups and downs of getting the kite out of the tree. The kids discover more about what's up and what's down in the world all around them as they sing "Up Is Up and Down Is Down." Playing fun games like London Bridge and I Spy also helps the kids discover more about up, down and all around. Finally, with a great idea from Tony and a little inspiration from Baby Bop, the "The Baby Bop Hop" brings the kite tumbling down from the treetop. Every day can have its ups and downs, but thanks to Barney and his friends, every day can be all around fun for everyone!
Song List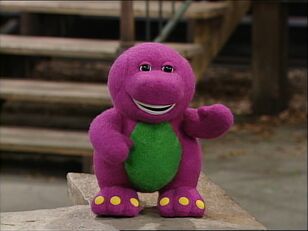 Trivia
This episode marked:
Before making her debut in this episode, Whitney appeared as a cameo in the trailer of Come on Over to Barney's House.
BJ was mentioned in this episode.
Community content is available under
CC-BY-SA
unless otherwise noted.