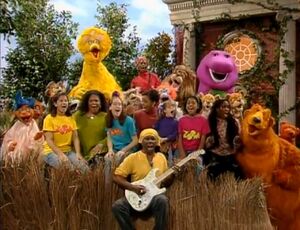 The We Are Family Foundation produced a cover version of the Sister Sledge song "We Are Family", featuring more than 100 well-known children's characters, to promote diversity and tolerance. The video debuted as a public service announcement on Disney Channel, Nickelodeon and PBS on March 11, 2002, and was issued as an educational DVD free to US public and private elementary schools in March 2005.
Trivia
According to Dean Wendt, this was the first time he voiced as Barney.
The last verse before my brothers and my sisters and me was reference to Barney when the lady with the blue hair sang "Come on Barney you big purple"
Commercial