What A World We Share (also known as "Around the World with Barney" in United Kingdom and Australia) is a Barney Home Video that was released on March 9, 1999.
Plot
After Stella the Storyteller leaves her suitcase in the treehouse, Barney and the children travel to France 🇫🇷, Canada 🇨🇦, and Mexico 🇲🇽 to find her. Meanwhile, Baby Bop and BJ fight over who gets to use the box, as Baby Bop wants to use it for a playhouse, and BJ wants to use it for a fort. When Barney and the children return, they find that BJ and Baby Bop are sharing the playhouse.
Stories: "Stone Soup"
Cast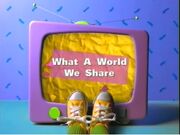 Songs
Gallery
Releases
Behind the Scenes
Trivia
This video marked:

The first video to feature a new "Please Stay Tuned" bumper. This bumper would later appear in some other home videos until 2001.
One of the times where Barney does not play the piano during the song, "Good Manners".
One of the few times where Barney breaks the fourth wall prior to Season 7. At the end of "It's Good to Be Home", when Barney sings, "You are so Special to Me", he looks into the camera and waves gently to the viewers watching at home. Barney broke the fourth wall prior in the video, "Sing And Dance With Barney".

The purple, green, and yellow stars that fade to the next scene, are the same ones that were seen in the final version of "Sing And Dance With Barney".
David Voss, the original Barney costume actor, appears briefly as a mime.
When the gang arrives at Mexico, the mariachi band plays "Celito Lindo".
Production for this video took place in-between August and September 1998.
Release date
This video was released a day after Steven Feldman's forty-seventh birthday.
Videos
Outtakes