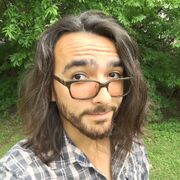 Zachary Soza (born October 3, 1991 in Austin, Texas) is a former American child actor who portrayed Mario in Seasons 7-8 of Barney & Friends.
Zachary studied Philosophy at The University of New Mexico from 2010-2014, and graduated with a Bachelor of Arts degree.
He now works as an Art Instructor at Painting with a Twist in Cedar Park, Texas. Prior to this, his role as Mario also showcased his artistic skills in episodes such as Spring Into Fun! and On Again, Off Again.
He married Michael Elaine Stark in 2017.
Gallery
References